Douglas G. Cottier
Main content
Biography
Doug is a member of the Business Law Group at Richards Buell Sutton LLP.
He assists clients with the facilitation and execution of business transactions, with a focus on mergers and acquisitions across a variety of industries. Doug also advises clients on franchising, corporate reorganizations, and general corporate and commercial matters.
Doug is the firm's Business Development Driver for the Business Law Group. This leadership role requires advancing firm business initiatives and strategic practice planning and implementation.
Prior to his legal career, Doug completed his undergraduate studies at the University of Southern California where he was a proud member of the men's basketball staff.
REPRESENTATIVE CLIENT WORK
Doug has representative experience in the following areas:
Assisting clients with acquisitions and sales of assets and/or shares of companies;
Assisting clients with incorporating or reorganizing their company, drafting shareholders agreements, and general corporate matters;
Advising franchisors and franchisees with respect to franchise agreements, termination of existing franchises, franchise disclosure documents and related ancillary documents;
Advising purchasers and vendors of retail pharmacies located throughout British Columbia;
Advising fishing and maritime companies on the purchase, sale, and lease-back of vessels, licenses, and quota; and
Providing general commercial advice and drafting, reviewing, and negotiating various commercial agreements.
NEWSLETTERS & PUBLICATIONS
Author, "Buying or Selling a Business in British Columbia? Make Your Move." – Business Newsletter, 2021
Author, "New "Transparency Register" That Your BC Private Company Must Prepare by October 1, 2020" – Business Newsletter, 2020
Co-authored with Sze-Mei Yeung, "Mitigating Due Diligence Issues Within a Business Transaction" – Business Newsletter, 2019
CLIENT TESTIMONIAL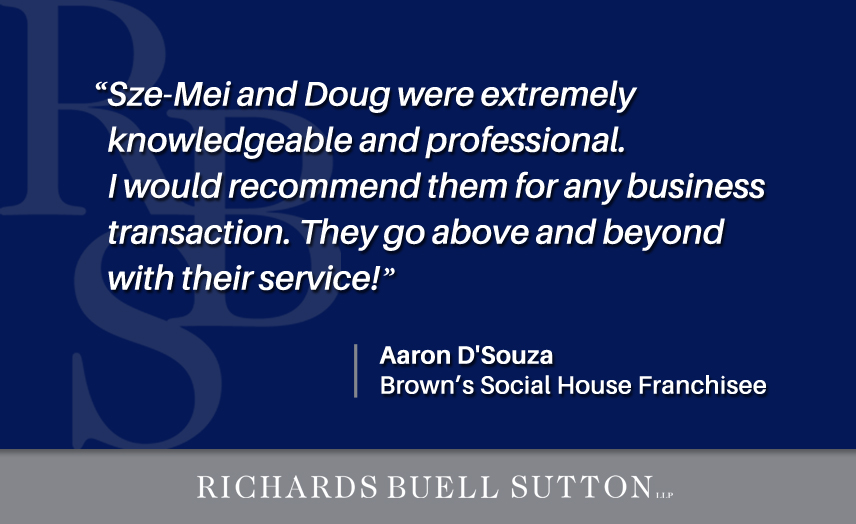 Douglas G. Cottier's Recent Activity