COVID-19: Federal and Provincial Assistance for Qualifying BC Businesses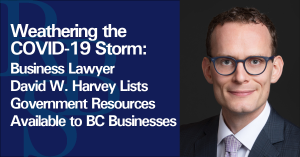 To provide a lifeline for businesses hit hardest by COVID-19, the Federal and Provincial governments have introduced resources to assist qualifying BC companies impacted by forced closures or reduction of operations during the pandemic.
These resources have been rolling out quickly and evolving daily and we expect this will continue until we have a better grasp on the full impact of COVID-19 and the measures and timelines necessary to contain it.
As a service to the business community, in a new publication, Business Lawyer David W. Harvey looks at four broad categories of resources that, as at April 20th, 2020, have been – or will be – made available to BC companies. If after reading it you need further advice, please email him at dharvey@rbs.ca. You may also contact any one of our Business Services or Business Transactions team members. Read the publication here.