RBS Offices Closed September 30 in Honour of National Day for Truth and Reconciliation
Posted on September 28, 2021
September 30, 2021 marks the first National Day for Truth and Reconciliation, as well as Orange Shirt Day.
This federal statutory holiday pays public tribute to the painful history and ongoing impacts of residential schools, which is an important aspect of the reconciliation process.
Orange Shirt Day is an Indigenous-led grassroots day that honours the lost children and Survivors of residential schools, their families, and communities. It also spotlights the experience of Phyllis Webstad, a Northern Secwpemc (Shuswap) from the Stswecem'c Xgat'tem First Nation, where on her first day of school, arrived dressed in a new orange shirt which was taken from her. This has now become a symbol of the stripping away of culture, freedom and self-esteem experienced by Indigenous children over many generations.
On this day, we encourage all Canadians to wear orange to raise awareness of the heart-breaking legacy of residential schools, and to honour the thousands of Survivors. 
In partnership with the Gord Downie & Chanie Wenjack Fund (DWF), A Day to Listen is dedicated to sharing stories from Indigenous leaders, residential school survivors, elders, musicians, and teachers throughout the day: https://downiewenjack.ca/a-day-to-listen. In recognition of the National Day for Truth and Reconciliation, a rebroadcast of the Indigenous voices heard on June 30, 2021 for A Day to Listen will air on various radio stations across Canada: https://downiewenjack.ca/a-day-for-truth-and-reconciliation/
Learn more: downiewenjack.ca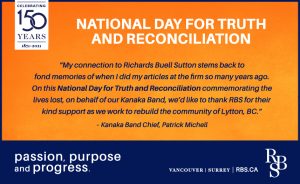 If you'd like to show your support of the Kanaka Band community, please email Kanaka Bar Council member, Pauline J. Michell at council4@kanakabarband.ca.